Page 3 - Linda Styles Portfolio
P. 3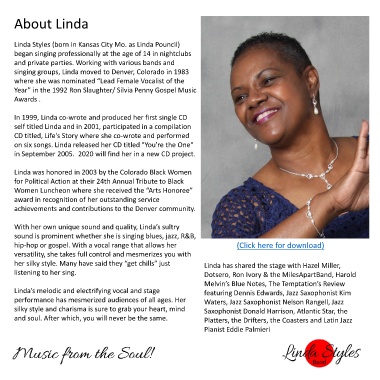 About Linda

Linda Styles (born in Kansas City Mo. as Linda Pouncil)
began singing professionally at the age of 14 in nightclubs
and private parties. Working with various bands and
singing groups, Linda moved to Denver, Colorado in 1983
where she was nominated "Lead Female Vocalist of the
Year" in the 1992 Ron Slaughter/ Silvia Penny Gospel Music
Awards .

In 1999, Linda co-wrote and produced her first single CD
self titled Linda and in 2001, participated in a compilation
CD titled, Life's Story where she co-wrote and performed
on six songs. Linda released her CD titled "You're the One"
in September 2005. By great demand, she is planning a
new release in 2017.

Linda was honored in 2003 by the Colorado Black Women
for Political Action at their 24th Annual Tribute to Black
Women Luncheon where she received the "Arts Honoree"
award in recognition of her outstanding service
achievements and contributions to the Denver community.

With her own unique sound and quality, Linda's sultry                    (Click here for download)
sound is prominent whether she is singing blues, jazz, R&B,
hip-hop or gospel. With a vocal range that allows her         Linda has shared the stage with Hazel Miller,
versatility, she takes full control and mesmerizes you with   Dotsero, Ron Ivory & the MilesApartBand, Harold
her silky style. Many have said they "get chills" just        Melvin's Blue Notes, The Temptation's Review
listening to her sing.                                        featuring Dennis Edwards, Jazz Saxophonist Kim
                                                              Waters, Jazz Saxophonist Nelson Rangell, Jazz
Linda's melodic and electrifying vocal and stage              Saxophonist Donald Harrison, Atlantic Star, the
performance has mesmerized audiences of all ages. Her         Platters, the Drifters, the Coasters and Latin Jazz
silky style and charisma is sure to grab your heart, mind     Pianist Eddie Palmieri
and soul. After which, you will never be the same.